Interfaith Spirituality Coffeehouse
Brewing community with every cup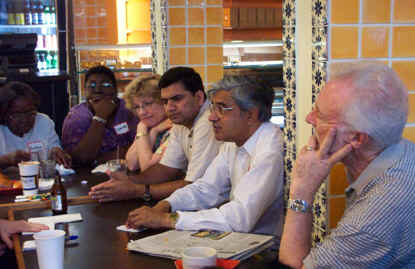 If you are interested in:
building bridges of mutual understanding and respect between different faith traditions,

replacing prejudice with tolerance and respect

sharing an interfaith dialogue with interesting people

making new friends and renewing old acquaintances, and

good coffee and a chance to hang out
Come join us at our weekly coffeehouse.
We have a new location for the Coffee House. We have our own space.
We hope you will join us.
1st & 3rd Tuesdays of every month 7:30PM - 9:30PM
at the Cafe Express on Frankford Rd. near the Northwest Corner of Preston Rd. The restaurant faces Frankford Rd.

Cost: $5.00 which included unlimited coffee and tea and your choice of a dessert.

There will be discussion, great coffee, great company and you will be the greatest addition of all

RSVP: interfaithdfw@aol.com or call (972) 523-8080